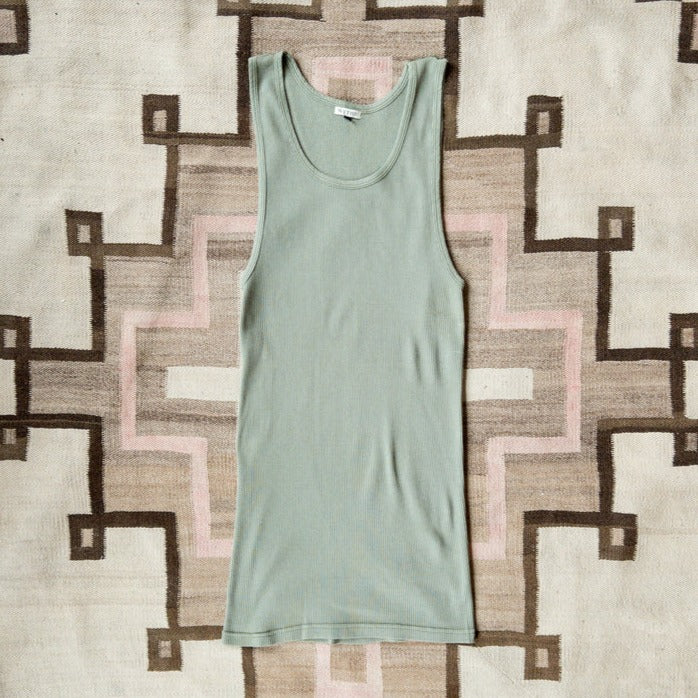 Tubular Cotton Ribbed Tank Top - Olive
Sale price

$38.00
Regular price
(/)
Tubular Cotton Ribbed Tank Top - Faded Olive
The classic undershirt, made in the ways its meant to be made. These tank tops are made in a similar way as our Tubular Pocket Tees. The machines knit the cotton in a circle, different widths for different sizes. This allows the shirts to sit neatly and comfortably against your skin without rubbing on the side seams, and also eliminates another area where the shirt can come apart.
We think these ribbed tanks are the perfect option for summer layering. They look great underneath a popover or work shirt, and look great on their own too. Tuck em in and they will stay put due to their longer length.
The Indigo overdye will have natural variations within the cotton, and will fade and soften with each wash and wear
Tubular ribbed cotton, will stretch as needed to the body with a slim fit

Long enough length to comfortably tuck in

100% Cotton
Made in Portugal
From the creator:
This season we pulled a lot of inspiration from Georgia O'Keeffe and the trips she took during the 20s and 30s to find inspiration in the mountains, specifically to New Mexico, and eventually her life in Abiquiu. 

"I saw a lot of parallels between that and my life. Living in and loving New York City, but yearning for the mountains. Yearning for the sand, dirt, snow, cacti, and desert air," says Peter, our founder and designer. 

The colors for this season come from our love of Diné weavings and a lot of O'Keeffe's paintings that came from her time in New Mexico; the canyons and cliffsides. We feature the "Churro Brown" color which comes from the brown color of the Churro Diné sheep, which is used in a lot of the weavings from the late 20s and 30s, and those found at the Two Grey Hills Trading Post. That specific brown they used is the natural color of the yarn, and its red tint plays so well with the Sandstone found in New Mexico, and its natural reddish/pinkish colors. 

Those colors are easily accompanied by our Sunshine Yellow, which is always present with and warming up the landscapes and natural colors.
Indigo played a big part of our collection as usual. We love indigo and how it ages and wears; we always appreciate and strive to make garments that look better the more they're worn. We worked with our partnering mill to develop an unbleached linen/cotton canvas. It features a special twist in yarns which allows the canvas to have structure but also be open and airy. We offer that in an indigo-dyed yarn as well. We're super excited to offer those in our signature hunting jacket with our custom corozo concha buttons. Also using that fabric on chinos and shorts. 

The madras is a beautiful, historic, and characteristic summer fabric. Usually you'd see that in bright, poppy colors and, while beautiful, we usually like to tone that down and give note to more faded and worn tones. OUR madras uses a lot of the colors from the surroundings in New Mexico. We used unbleached and undyed yarns where we could, and tried to use minimally processed dyes for the browns and tan colors in there as well. We have the stripe and the plaid, both in really rich but faded earthones. They sit very well with the other colors of the collection - and why shouldn't they? Everything is pulled from the beauty naturally found out there. 
Striped tees were inspired a lot by time in Sante Fe and Dine´ Weavings. You can see the sage green and khaki colors from the second film image of some old architecture in Sante Fe. The Cochinel and Indigo colors were based on transitional weavings that I had and color referenced against some Pantone color books. The Blue stripes were based on early american farmhouse pottery glazes.
The striped tees use the same fine and slubby organic cotton of our tubular tees and are made in Portugal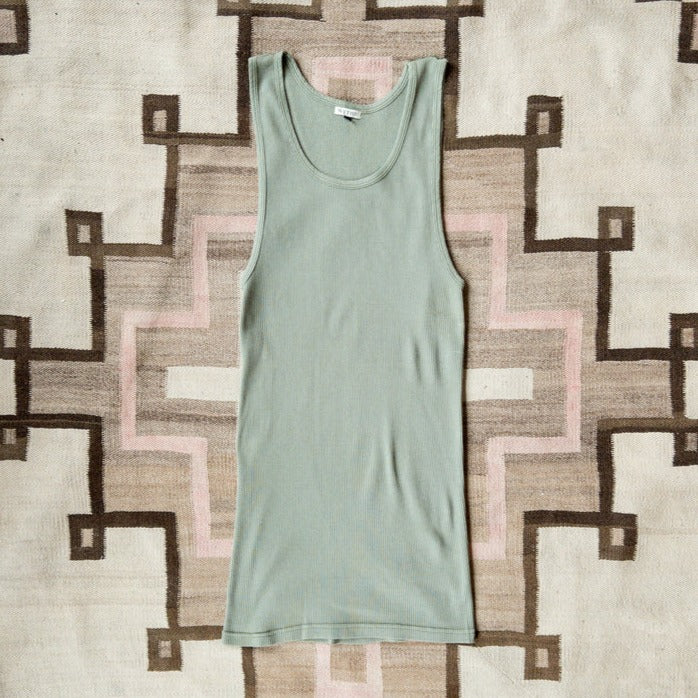 Tubular Cotton Ribbed Tank Top - Olive
Sale price

$38.00
Regular price
Choose options