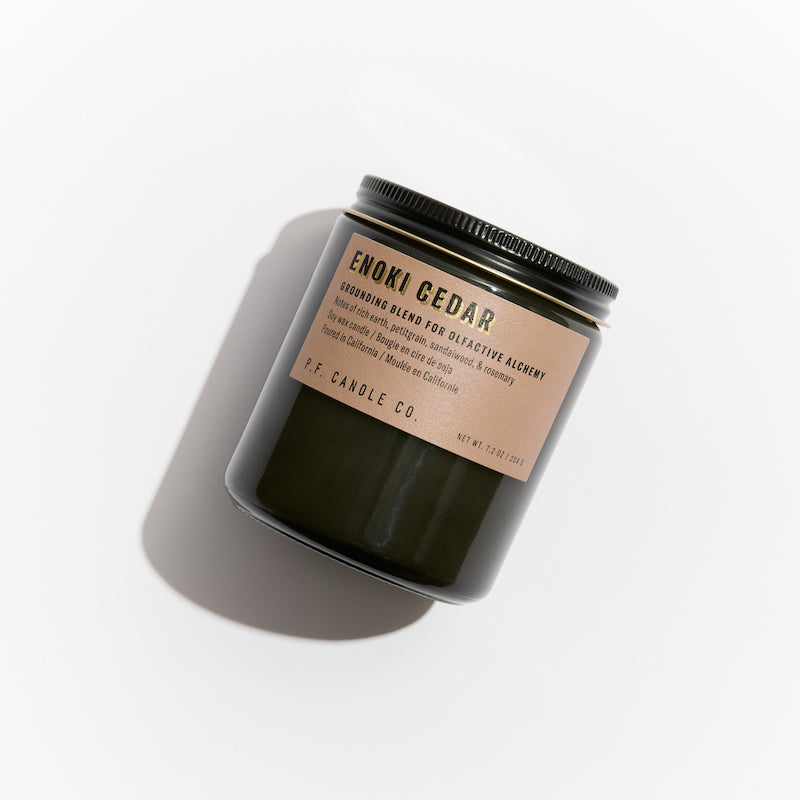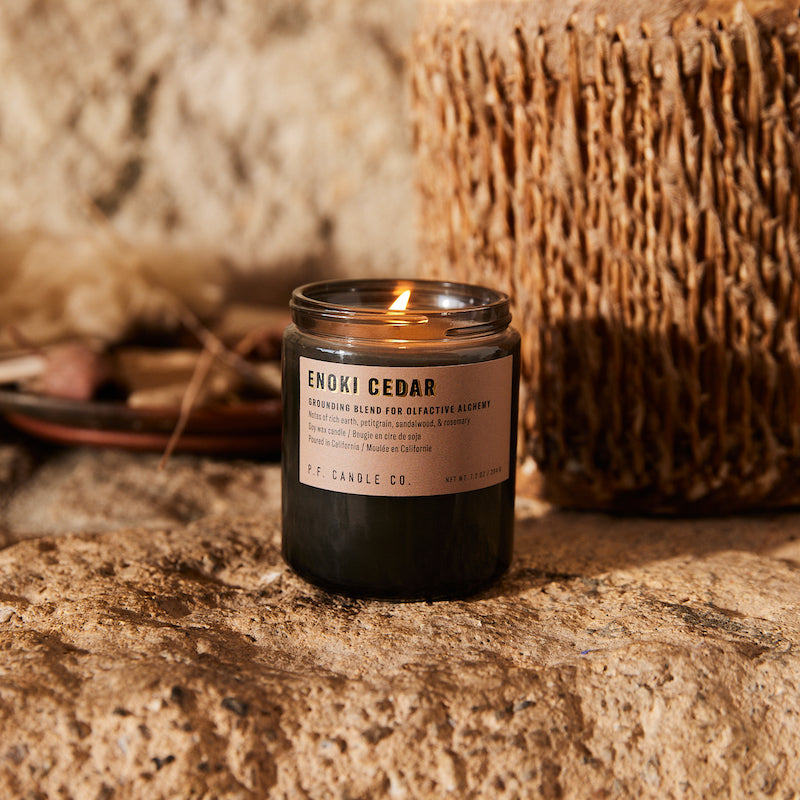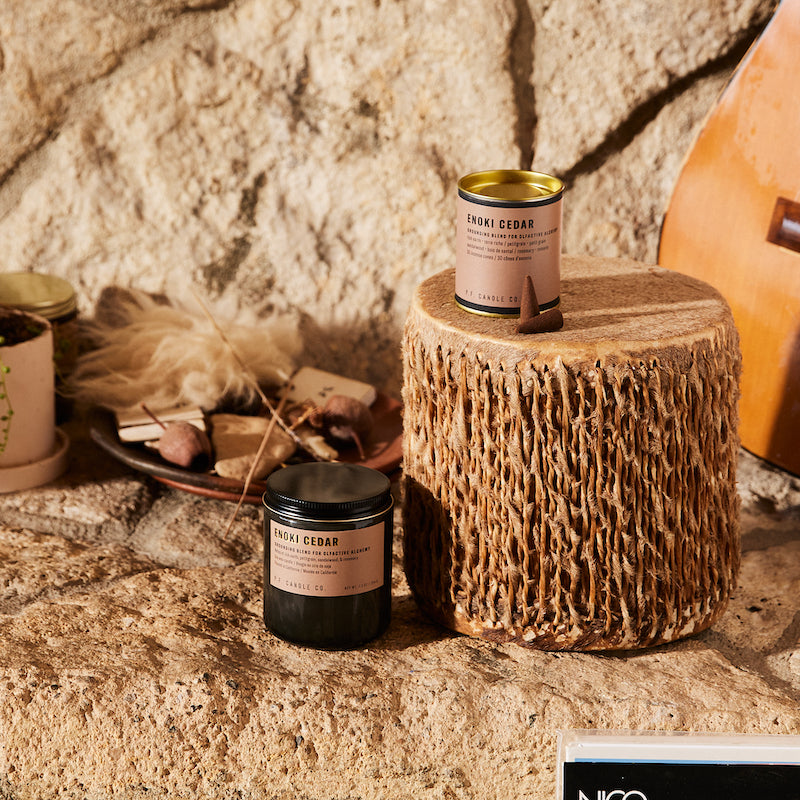 Enoki Cedar– 7.2 oz Soy Candle Alchemy Candle
Sale price

$24.00
Regular price
(/)
Standard Candle
A grounding blend to activate deep relaxation, with notes of rich earth, petitgrain, sandalwood, and rosemary. Inspired by regenerative walks through verdant woods, formulated with upcycled patchouli and a proprietary fragrance technology inspired by nature's positive affect on mood and wellbeing.
Product Info.
Alchemy Candles feature smoke-colored glass vessels, black metal lids, and gold-leafed labels inspired by vintage window lettering.

Burns for 40-50 hours. 2.9" in diameter and 3.5" in height.
How to Use
Following Candle Care helps to ensure product quality + longevity. We highly recommend following each of the following steps:
Trim your candle's wick to 1/4" before each lighting or once your candle has cooled.
Never attempt to trim a burning candle.
Discard the snipped portion in the trash; never leave wick trimmings in your candle jar.
The wick should always remain centered and away from the sides of the vessel.
Allow the wax to melt to the edges of the jar during each burn to prevent tunneling.
Once the candle's gone, we hope you'll re-use it. Clean it out and you've got a new planter or pencil holder – or whatever you want!

Click here for tips on reusing your empties.

Safety first - because candles contain a small flame, we encourage following these common sense rules of thumb:
Never leave a candle burning unattended, near a draft, or in reach of children or pets.
Don't burn your candle for more than 4 hours at a time.
Do not allow your wick to curl over, as this can create a larger than normal flame.
Stop burning your candle when only 1/4" of wax remains.
Do not pick up a burning candle or immediately after it's been blown out.
Protect the surface underneath the candle no matter the material.
Ingredients 
Each candle is made with 7.2 oz of soy wax, fine fragrance oils, and cotton-core wicks. The fragrances we use are paraben-free, phthalate-free, and are never (ever) tested on animals.
Your Brain On Alchemy
Inspired by the almost-magical process of transforming your atmosphere
through fragrance, we sought out scent notes that evoked the healing power of immersion in nature, and developed
Alchemy
– a line of candles and incense cones in four research-backed blends meant to positively influence mood and boost intentions.
Here's how:
Our perfumery partners worked with scientists and universities across multiple countries and demographics to conduct studies utilizing brain imaging, brain activity, heart rate, and skin response to track how specific scent notes affected participants physiologically, along with their own personal associations and imagery to describe the emotional effect the fragrances had.
Candle Care
1. Trim That Wick:
Before lighting, trim the wick to 1/4" using scissors or one of our wick trimmers for a clean, safe burn and increased candle lifespan.
2. Let It Burn:
Allow the wax to melt to the edges of the jar every burn to prevent tunneling - especially important on the first burn!
3. Safety First:
Never leave a lit candle unattended, and don't burn for more than 4 hours at a time. To protect the surface below from heat, place your candle on a coaster or tile.
4. Know When to Stop:
Don't burn your candle if only 1/4"-1/2" of wax remains. Lighting a candle without enough wax can overheat the jar.
5. Reuse It:
Once the candle is finished, clean out the jar! Now you've got a new planter or pencil holder or whatever you'd like. More tips on how to reuse here.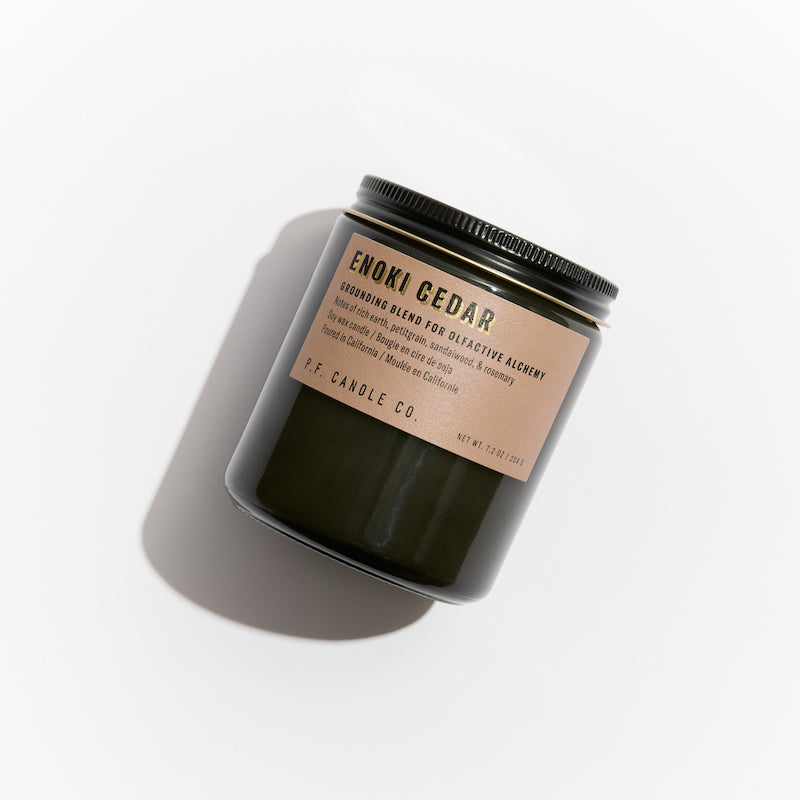 Enoki Cedar– 7.2 oz Soy Candle Alchemy Candle
Sale price

$24.00
Regular price
Choose options